Soprano Ariadne Greif and Composer/Conductor Carl Bettendorf perform Wagner with the Momenta Quartet and friends
(Photo courtesy of Americas Society)
Dear friends,
This is just a friendly reminder about the Momenta Quartet's FREE season premiere, which also happens to be the opening concert of the Concourse Counterpoint Fall Festival:
THIS Saturday, September 25 at 3pm at:
The Andrew Freedman Home
1125 Grand Concourse (corner of McClellan, D or 4 train to 167)
Bronx, NY 10452
Also – an update about COVID protocols:
Someone from the Freedman Home will be checking proof of vaccination at all Concourse Counterpoint concerts: BUT…
We will have the big windows wide open and will set up chairs right outside the windows for our friends who are not vaccinated. We will not turn you away! If it rains, though, please bring an umbrella.
Also – performers will not all be wearing masks (for obvious reasons!), but we are encouraging all audience members to wear a mask.
Momenta Quartet and Friends
Emilie-Anne Gendron and Alex Shiozaki, violins;
Stephanie Griffin, viola; Michael Haas, cello
With friends:
Ariadne Greif, soprano; Karen Lindquist, harp; William Hakim, viola; and Carl Bettendorf, conductor
Program:
Joseph Haydn: String Quartet in F minor, Op. 20, no. 5
Carlos Salzedo: Chanson dans la nuit for solo harp
Carl Bettendorf: Il y a l'Océan for string quartet
Carl Bettendorf: Souvenir for solo viola and electronics
Richard Wagner: Liebestod from Tristan und Isolde, arranged by Stephanie Griffin
Since Carl and I are both Bronx-based composers recently honoured with the BRIO award from the Bronx Council on the Arts, we will talk about the program as part of the fulfilment of our Artist Community Enrichment (ACE) requirement.

About the program:
Thanks to a generous grant from the City Artist Corps program, we were able to go all out in this free concert! I have always wanted to program my chamber arrangement of Wagner's glorious Liebestod – the "hit single" from his 4-hour opera, Tristan und Isolde. We have played it once before on the Momenta Festival at Americas Society back in 2018.
The City Artist Corps grant has made it possible for us to hire three guests and cover the costs of getting a harp to the Bronx! So, please do come hear us play "opera," alongside music by Joseph Haydn and Carl Bettendorf in the elegant Princess Ballroom at the historic Andrew Freedman Home. (It used to be an assisted living home for millionaires – we can all pretend we qualify!)
Also – since we are taking the trouble of bringing a harp to the Freedman Home, our guest harpist Karen Lindquist will regale you with a gorgeous solo harp piece by Carlos Salzedo.
This concert was made possible through the City Artist Corps Grants program, presented by The New York Foundation for the Arts (NYFA) and the New York CityDepartment of Cultural Affairs (DCLA), with support from the Mayor's Office of Media and Entertainment (MOME) as well as Queens Theatre.
*****************************************
We hope to see you all this Saturday, and meanwhile please save the dates for the other five FREE concerts on the Concourse Counterpoint Fall Festival:

Friday, Oct. 8, 7pm: Odero George Achieng and the Omi Ensemble
from Kenya sings plays his one-string orutu in new and traditional music with members of the Omi Ensemble (Sweet Lee Odom, reeds; Volker Goetze, trumpet; Stephanie Griffin, viola; Hilliard Greene, bass; and Sipho Kunene, drums
Saturday, Oct. 9, 3pm: DOUBLE BILL: Momenta Quartet with jazz fusion band "All Things to All People"
Steve Antonelli, mandolin
Richard Robinson, guitar
Jeff "Siege" Siegel, drums
Hilliard Greene, bass

Momenta performs Alvin Singleton's String Quartet no. 1 and Sergei Prokofiev's String Quartet no. 2, based on Kabardino-Balkar folk themes from the North Caucasus.

All Things to All People (the musical project) combines artists with backgrounds in Indian classical music, jazz, African music, South American music and New York "downtown" music into a sometimes combustible/sometimes contemplative mixture of form and improvisation that, although recorded, is meant to be performed live and is never performed the same way twice.

Saturday, Oct. 16, 2pm: Garifuna Jazz Ensemble at the Vegan Market ($5 for two people entry fee to the Vegan Market)
Lucy Blanco, Vocalist, founder of The Garifuna Jazz Ensemble
Mario E. Sprouse, pianist, musical director
Gary "Wicked" Fritz, percussionist
Hilliard Greene, bassist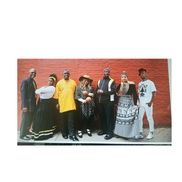 Saturday, Oct. 23, 3pm: John Coltrane's "A Love Supreme"
Interpreted by Louie Belogenis, sax; Beth Anne Hatton, vocals; Roberta Piket, keyboard; Kirk Knuffke, trumpet; Michael Wimberly, drums; and Hilliard Greene, bass

Thursday, October 28, 7pm: Hilliard Greene's band The Jazz Expressions with special guest vocalist Jasmine Williams

Jasmine Williams, vocals; TK Blue, sax; Dwayne (Cook) Broadnax, drums; Sharp Radway, keyboard; Hilliard Greene, bass/Musical Director

**********************
Please save the dates and tell your friends!

Also, please wear a mask during the concert.

Thanks again to the Bronx Council on the Arts and City Artist Corps for their support of these concerts!
I hope you all are well and look forward to seeing you soon!
All the best,

Stephanie
www.momentaquartet.com
CONCOURSE COUNTERPOINT FALL CONCERT SERIES 2021
CONCOURSE COUNTERPOINT FALL CONCERT SERIES

presents

THE OMI ENSEMBLE feat. Odero

from Kenya

VENUE

THE ANDREW FREEDMAN HOME

TITLE OF EVENT

Kenyan Connections

BAND NAME
THE OMI ENSEMBLE
BAND MEMBER NAMES

Odero George Achieng, orutu and voice (visiting from Kenya)

Lee Odom, reeds and flute

Volker Goetze, trumpet/flugelhorn, Sipho Kunene, drums,

Hill Greene (you know him!), bass

Stephanie Griffin, viola

DATE PLUS DAY OF WEEK, YEAR

Friday, October 8, 2021

TIME

7 pm

FULL ADDRESS with ZIP CODE

1125 Grand Concourse, Bronx, NY 10452

PHONE NUMBER

718.410.6735

WEB SITE

http://hilliardgreene.com/index.php/concourse-counterpoint-fall-festival-2021/

EMAIL ADDRESS
DIRECTIONS
SUBWAY STOPS

D or 4 train to 167

th

Street

CROSS STREETS

McClellan Street and Grand Concourse

COVER+MINIMUM

free
CONCOURSE COUNTERPOINT FALL CONCERT SERIES

presents

Double Bill: The Momenta Quartet and All Things To All People feat. Richard Robinson
VENUE

THE ANDREW FREEDMAN HOME

TITLE OF EVENT
BAND NAME
The Momenta Quartet; All Things To All People
BAND MEMBER NAMES
Momenta Quartet:

Emilie-Anne Gendron and Alex Shiozaki, violins

Stephanie Griffin, viola

Michael Haas, cello

All Things to All People:

Steve Antonelli – mandolin

Richard Robinson – guitar

Jeff "Siege" Siegel – drums

Hill Greene – bass

DATE PLUS DAY OF WEEK, YEAR

Saturday October 9, 2021

TIME

3 pm

FULL ADDRESS with ZIP CODE

1125 Grand Concourse, Bronx, NY 10452

PHONE NUMBER

718.410.6735

WEB SITE

http://hilliardgreene.com/index.php/concourse-counterpoint-fall-festival-2021/

COVER+MINIMUM

free

DIRECTIONS
SUBWAY STOPS

D or 4 train to 167

th

Street

CROSS STREETS

McClellan Street and Grand Concourse

COVER+MINIMUM

free
CONCOURSE COUNTERPOINT FALL CONCERT SERIES

presents

Garifuna Jazz Ensemble feat. Lucy Blanco
VENUE

THE ANDREW FREEDMAN HOME

TITLE OF EVENT
Garifuna Jazz Ensemble feat. Lucy Blanco
BAND NAME
Garifuna Jazz Ensemble
BAND MEMBER NAMES

Lucy Blanco, Vocalist, founder of The Garifuna Jazz Ensemble

Mario E. Sprouse, pianist, musical director

Gary "Wicked" Fritz, percussionist

Hilliard Greene, bassist

DATE PLUS DAY OF WEEK, YEAR

Saturday, October 16, 2021

TIME

3 pm

FULL ADDRESS with ZIP CODE

1125 Grand Concourse, Bronx, NY 10452

PHONE NUMBER

718.410.6735

WEB SITE

http://hilliardgreene.com/index.php/concourse-counterpoint-fall-festival-2021/

EMAIL ADDRESS
DIRECTIONS
SUBWAY STOPS

D or 4 train to 167

th

Street

CROSS STREETS

McClellan Street and Grand Concourse

COVER+MINIMUM

free ($5 for two people entry fee to the Vegan Market)
CONCOURSE COUNTERPOINT FALL CONCERT SERIES

presents

John Coltrane's A Love Supreme
VENUE

THE ANDREW FREEDMAN HOME

TITLE OF EVENT
John Coltrane's A Love Supreme
BAND NAME
A Love Supreme Band
BAND MEMBER NAMES

Louie Belogenis – sax

Beth Anne Hatton – vocal

Roberta Piket – piano

Kirk Knuffke – trumpet

TBC – drum

Hilliard Greene – bass

DATE PLUS DAY OF WEEK, YEAR

Saturday, October 23, 2021

TIME

3 pm

FULL ADDRESS with ZIP CODE

1125 Grand Concourse, Bronx, NY 10452

PHONE NUMBER

718.410.6735

WEB SITE

http://hilliardgreene.com/index.php/concourse-counterpoint-fall-festival-2021/

https://andrewfreedmanhome.org/

EMAIL ADDRESS
DIRECTIONS
SUBWAY STOPS

D or 4 train to 167

th

Street

CROSS STREETS

McClellan Street and Grand Concourse

COVER+MINIMUM

free
CONCOURSE COUNTERPOINT FALL CONCERT SERIES

presents

Hilliard Greene The Jazz Expressions feat. Jasmine Williams
VENUE

THE ANDREW FREEDMAN HOME

TITLE OF EVENT
BAND NAME
The Jazz Expressions feat. Jasmine Williams
BAND MEMBER NAMES

JASMINE WILLIAMS – vocals

TK BLUE – sax

DWAYNE (COOK) BROADNAX – drums

SHARP RADWAY – piano

HILLIARD (HILL) GREENE – bass/Musical Director

DATE PLUS DAY OF WEEK, YEAR

Thursday, October 28, 2021

TIME

7 pm

FULL ADDRESS with ZIP CODE

1125 Grand Concourse, Bronx, NY 10452

PHONE NUMBER

718.410.6735

WEB SITE

http://hilliardgreene.com/index.php/concourse-counterpoint-fall-festival-2021/

EMAIL ADDRESS
DIRECTIONS
SUBWAY STOPS

D or 4 train to 167

th

Street

CROSS STREETS

McClellan Street and Grand Concourse

COVER+MINIMUM

free